Grandma huddles over a giant seasoned wok with a metallic ladle which she wields with a wizened hand. The fragrant aroma that perfumes the air is not of her home-cooked dishes but a viscous mixture of plump tapioca pearls which she stirs with effort, and with love. Yifang Taiwan Fruit Tea's newest outlet at the refurbished Change Alley Mall features its first open kitchen in the world with grandma at the helm to deliver a generous serving of the taste and tradition of Taiwan fruit tea.
The story of Yifang Taiwan Fruit Tea began in the kitchen. Married to a young farmer who toiled in the pineapple plantation to earn a livelihood, the founder's grandmother, Yifang, decided to make him a refreshing pineapple drink using overripe pineapples which she braised into homemade jam. More than three generations later, her legacy lives on in more than 1,500 outlets in countries such as the United States, Europe, Australia, New Zealand, Japan, China, Hong Kong, Dubai and the South East Asian region. The newest outlet in the Singapore CBD district is the first one to bring the spirit of Grandmother Yifang's kitchen to the world.
Mayvia Koh, Director at NextStep Holdings which owns the master franchise in Singapore and Hong Kong, says "Grandma lies at the heart of Yifang Taiwan Fruit Tea. The kitchen where her recipes are born and drinks are lovingly made, enriches Yifang Taiwan Fruit Tea with nostalgia and tradition. We hope that customers will be brought closer to the Yifang story with a real-life grandma working at the shop to remind everyone of the love of family and possibly, the sweet taste of childhood."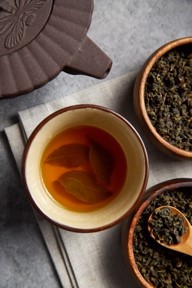 A range of fruit teas, tea lattes, traditional teas and new drink series will be doled out from the kitchen and made fresh upon order using imported ingredients from Taiwan. Tea leaves are freshly-picked from 140 hectares of tea gardens in Mingjian, Lugu and Sun Moon Lake, while the best seasonal fruits are selected from different regions: pineapples from Guanmiao, green plums from Xinyi Township, granadilla from Puli, roselle from Jinfeng, kumquat from Ilan, and cane from Shikou.
Fresh fruits are made into jam with no artificial flavourings or concentrated juice added, preserving their natural taste without any additives.  For that added touch of sweetness, golden crystals of natural cane sugar are infused into the mix for a pleasant aftertaste that is not cloying like sucrose and fructose.
The Yifang Fruit Tea is a cup of premium mountain tea mixed with delicious pineapple jam, tangy passionfruit, and zesty lemon, apple and orange slices. For time-strapped office workers hungry for a filling guzzle instead of a post-lunch quencher, the lavender-hued Taro Latte with its freshly-mashed taro paired with fresh milk is a satisfying beverage.

From left: Yifang Fruit Tea, Taro Latte with sago topping and the new Sweet Red Bean with Jelly Cake Latte
Two new drink series will be available at Change Alley Mall – Cheese Milk Foam Fruit Tea Series and Sweet Red Bean Series, with the addition of new hot drinks to the Traditional Taste Series. Drinks such as Ginger Lemon Tea, Longan & Jujube Tea and Pearl Ginger Black Tea Latte are served warm and are certainly Ah Ma-approved! Out of the new creamy Cheese Milk Foam Fruit Tea Series, Cheese Milk Foam Yifang Fruit Tea is available hot and cold for customers to savour the drink two ways. With the luxury to choose between hot and cold versions for plenty of drinks on the menu, there is something to sip and savour on any occasion.
In a sea of F&B options available, look out for Yifang Taiwan Fruit Tea's signature retro shop design which is inspired by interior styles from Taiwan and Okinawa with light oak wooden panels and warm lighting. Or, catch the inviting waft of freshly-cooked tapioca pearls drifting through the air which will lead to handcrafted, Taiwan fruit tea goodness.
To celebrate its store opening, Yifang Taiwan Fruit Tea will be launching a 1-for-1 promotion on any purchase of a large cup of the signature Yifang Fruit Tea. This offer is valid from 1 October to 3 October 2020 and is available at both Change Alley Mall and Orchard Gateway outlets.
Yifang Taiwan Fruit Tea is venturing out of the town area to provide grab-and-go options at Shell petrol stations. The outlet at Shell @ Sengkang opens in mid-October and another at Shell @ Bukit Batok is slated to open in end October. There are plans for every Shell station island-wide to have an Yifang Taiwan Fruit Tea outlet to make healthy and quality drinks easily accessible.